Teamviewer Quick Support
Download of the remote support client starts automaticly, if not click here
---



What is Teamviewer Quick Support?
TeamViewer QuickSupport is an application that allows remote control to any TeamViewer users, by providing them with your ID and password for connection.
It includes a few settings that can be seamlessly configured.

Installation is not required, which makes the tool portable.
You can drop the executable file anywhere on the hard disk and run it directly.
Administrative rights are not required.
What's more, the Windows Registry does not get new entries, and files are not left behind on the hard disk after removing the utility.
Once initialized, the program displays the ID and password you need to share with another user to grant him access and control over your workstation.
To sum it up, TeamViewer QuickSupport is a small and simple-to-use client module that quickly establishes a stable connection between two computers using TeamViewer.
It works smoothly, wihtout causing the operating system to hang, crash or show error messages.



Getting started
Run the downloaded file

If a User Account Control window show, click Yes.

When client is started check your ID and password and give it to your remote partner (se picture below).

Your remote partner can now connect to your computer and support you.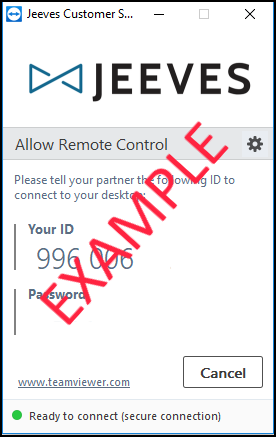 ---
Are the QuickSupport (QS) and QuickJoin (QJ) modules secure?
The QuickSupport and QuickJoin software modules are just as secure as the full version! The following security features are included for the QuickSupport and QuickJoin modules:
No permanent installation:
It is merely an executable file. After exiting or deleting this file, TeamViewer can no longer be started.

Access ends as soon as the program is closed:
As soon as you close the application, it is no longer possible to connect to your computer.

All actions are visible to the user:
It is not possible to establish a hidden connection. A session information window is always displayed at the bottom right edge of the monitor during a TeamViewer session.

No hidden file transfer in the background:
If files are being copied, an additional dialog window always opens at the customer side in the center of the monitor and indicates which files are being transferred.

User who is sitting in front of the computer has priority:
The control of the user sitting directly in front of the computer has always priority over remote control.
Text from site http://www.teamviewer.com